installation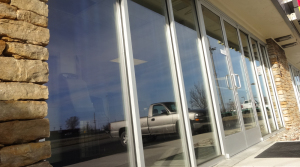 Whether you are a residential or commercial customer considering a glass store front, frameless shower, custom windows, glass cabinets, exterior doors, partitions, or other projects involving glass, installation is key. At The Glass Act, we provide Kansas City home and business owners with outstanding materials and technicians who are skilled in what they do. Many companies provide residential and commercial glass services, however it is vital that you choose professionals who are highly capable in installation, as proper installing of any glass component is vital to its integrity.
Perhaps you are a homeowner who is interested in having a glass shower enclosure installed, or even a glass partition between rooms. If you are a business owner, you may feel that a glass skylight would add to the visual appeal of your office or building. Maybe you are having an office constructed, and are considering glass walls on the exterior. No matter how small or large a project, proper glass installation is a must.
The Glass Act is also the company to trust when you have an emergency or issue that requires repair. A storm may have broken out a window, or an intruder may have caused damage to a glass door. Our glass installation specialists are ready to handle any and all repairs or replacement, so that you can enjoy peace of mind and get back on schedule.
Regardless of whether you are a residential home owner with a single story home, or a property owner with offices in a multi-story building, we provide glass installation you can trust regardless of the complexity of the project. Retail space, office space, industrial or commercial settings, restaurants, traditional homes, custom homes – we do it all!
When having a project completed, particularly when the job involves custom glass or projects that are a bit different in terms of size and shape, proper glass installation is vital. At The Glass Act, our professionals take pride in their work, and are dedicated to quality installation of glass products. We stand behind our services, so you can rest assured your project is of the utmost in quality. We invite Kansas City Metro area home and business owners to contact us today for all of your glass installation needs.