repair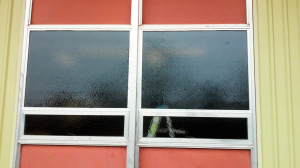 At The Glass Act, we are your Kansas City glass repair professionals, whether you have a residential or commercial issue. We understand that when a window, door glass, or other glass item is broken, cracked, or even shattered, quick repair or replacement is essential. In many cases, we can repair chips or cracks in single panes without having to replace the entire window or glass panel. By giving us a call and describing the problem, we can frequently tell you over the phone whether glass repair is possible.
You may have a stained glass door, window, or sliding glass door that was damaged in a storm, accident, or during a break-in attempt. Commercial business owners may have a skylight, partition, or glass wall in need of repair. In some cases, it is necessary for our glass repair contractors to take a look at the situation in order to determine whether the glass can be repaired, or if replacement is a better solution. Either way, quick action should be taken to prevent further damage and return your home/business to its original state.
Commercial and industrial business locations often have broken glass windows in need of repair. If you run a retail store or other business open to the public, you may need a store front window repaired quickly. Our glass repair professionals can make repairs or replacement on site, restoring a professional look to your business and reclaiming its security. Depending on the type of damage, broken glass can not only be dangerous, it can leave your home or business susceptible to weather elements, vandalism, and more. For table top glass, cabinet glass, partitions, shower enclosures, door sidelights, plate glass windows, and more, we are the experts in glass.
For many businesses, store front windows are critical to the success of the business, as these types of windows are often tools for advertising your company name, logo, hours of business, special deals, and more. For homeowners, a broken window or broken glass in an exterior door can not only be dangerous to family members, but detracts from the beauty and security of their homes. When you are in need of a company who provides exceptional glass repair, count on the experts at The Glass Act! We proudly serve residential and commercial customers in the Kansas City Metro area, providing unsurpassed products, installation, and service.