residential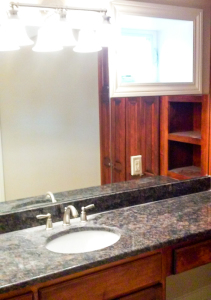 Glass elements can transform the look of any style home, whether yours is contemporary, traditional, country, Mediterranean, or any other style. With the many types of glass available today, it's possible to enjoy a more beautiful home that is energy efficient and secure. With the glass entry doors, custom glass windows, and other residential glass products we provide for Kansas City homeowners, you can bring more of the outdoors in!
Inside the home there are many ways to incorporate beautiful glass into your decorating, whether in the bath, living room, or kitchen. Or, perhaps you are looking to divide one room from another with glass wall partitions. Today, there are more uses than ever before with the various types of glass, and homeowners are finding that they are able to open up their homes and give them a spacious, more inviting appearance. It is important to note that modern technology has also resulted in glass products that are extremely safe for use in designing/decorating residential homes.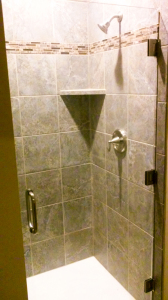 Some of the residential glass solutions we provide include:
Glass entry doors
Glass shower doors
Glass table tops
Glass wall partitions
Glass cabinets
Beveled glass overlays
Custom windows
Frameless shower glass
Whether for your kitchen table or coffee, accent, or end tables in the living room, our glass table tops are crafted by skilled professionals using the latest technology to ensure unmatched quality.
Our frameless shower glass gives any bath, regardless of its size, an understated, simple appeal that is suitable for any decor from the most casual to the most elegant.
Beveled glass overlay, whether on exterior doors or shower doors, helps maintain an element of privacy while adding elegance and beauty to your home. Depending on the style you choose, your glass can look as intricate and ornate as you like, or you can maintain a simple, classic, no-fuss look.
At The Glass Act, we are dedicated to delivering glass products to homeowners in the Kansas City Metro area that are of unsurpassed quality. As a trusted source of residential glass, we take enormous pride in the fact that we help transform homes into those that owners fall in love with all over again. We are also dedicated to your satisfaction, and strive to go beyond your expectations. For all of your glass needs, count on our team of professionals!